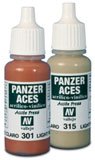 Panzer Aces:
A color system designed in collaboration with Panzer Aces Magazine for reproducing the colors of the uniforms of tankcrews and general armed forces in WWII.
In order to simplify the method of painting the uniforms of the crew of military vehicles in the Second World War, the specialists on the staff of Panzer Aces Magazine have created a series of colours which coincide with the standard shades of these uniforms. All uniforms consist of a base and a lighter color for highlighting and grading.
Three colors have been selected for the fleshtones, as well as a series of colors to reproduce the design of Splinter Camouflage, printed on many of the garments and canvas equipment of the German Army. The Panzer Aces colors are available individually, but also in 6 sets of 8 colors, each set selected for the painting of the various camoflauge
colors, the canvas, wheels, wood and leather, periscopes and utensils, and for the various tank crew uniforms and skintones.
Panzer Aces is presented in plastic bottles of 17ml. with an eyedropper device which keeps paint from drying and prevents spills.
If you are new to painting with acrylics.
Visit Vallejo Acrylics Blog for some great tips and tutorials.
Vallejo Acrylic Panzer Aces
70317

British
Tank Crew

70318

US Army
Tank Crew

70319

USMC
Tank Crew

70320

French
Tank Crew
70321

Highlight
British Crew
70322

Highlight
US Army Crew
70323

Highlight
USMC Crew
70324

Highlight
French Crew
70325

Russian
Tank Crew I
70326

Russian
Tank Crew II
70327

Italian
Tank Crew

70328

Japanese
Tank Crew
70329

Highlight
Russian Crew I
70330

Highlight
Russian Crew II
70331

Highlight
Italian Crew
70332

Highlight
Japanese Crew
70333

German
Black

70334

German
Feldgrau I

70335

German
Feldgrau II
70336

Afrikakorps
Tank Crew
70337

Highlight
German Black
70338

Highlight
Feldgrau I
70339

Highlight
Feldgrau II
70340

Highlight
Afrikakorps
70341

Flesh
Base
70342

Highlight
Flesh
70343

Shadows
Flesh
70344

Winter White
German Tanker
70345

German Camo
Splinter Base
70346

German Camo
Blotches I
70347

German Camo
Blotches II
70348

German Camo
Splinter Strips
Click a color to order
* Colors shadowed are not available at this time